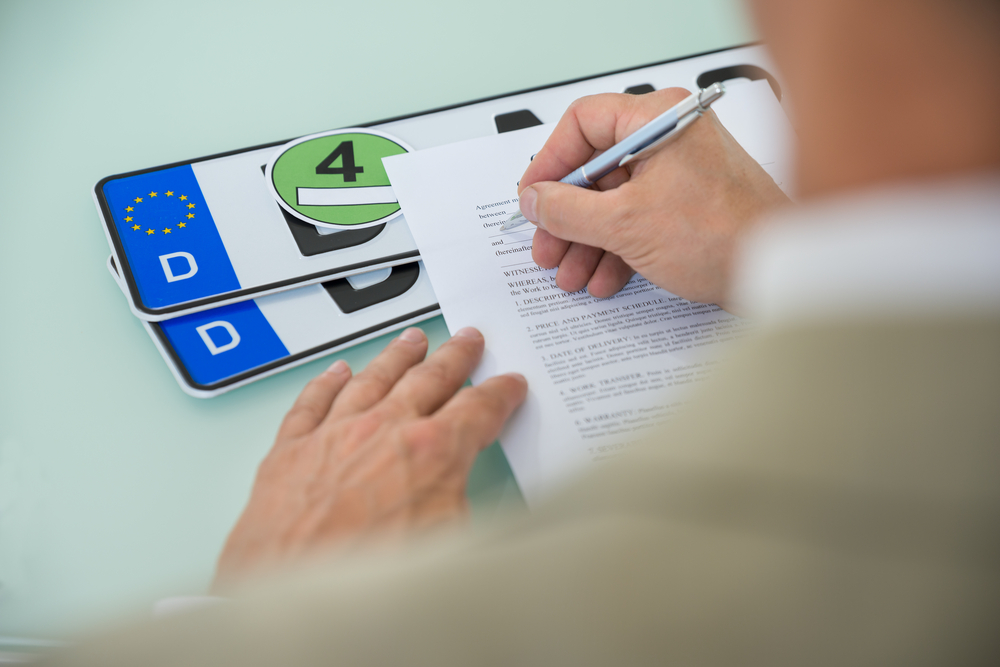 You can transfer your registration from a previous vehicle to another vehicle that you own. If your current registration is valid, you have 14 days to transfer the plate.
Note: The 14-day period to transfer your vehicle registration does not apply to commercial vehicles and your insurance documents. You'll need to contact your insurance company or broker on purchasing adequate insurance for your new vehicle.
What is the cost of transferring my vehicle registration?
Providing that the license plate registration is currently valid, the cost to transfer registration to another vehicle is $22.45. If it's not valid, you'll need to pay the cost to renew your vehicle registration.
Can I give my license plate to someone else?
When transferring a registration, the plate must stay with you. The basic rule is that you can transfer your plate to another vehicle that you own, but not to someone else. When selling a vehicle, never allow the buyer to keep your plate.
What documents do I need to transfer my vehicle registration?
Depending on the nature of your plate/registration transfer, you will need to show:
Proof of ownership (Bill of Sale or Lease Agreement)
Proof of valid insurance ("pink card" in the name to appear on the vehicle registration)
Valid Photo ID (usually a driver's license or passport)
If you've purchased a brand new vehicle, you'll need to bring the original New Vehicle Information Statement that is given by your dealer when you purchased the vehicle. Please note that we don't accept photocopied documents.
If the current registration or ownership is under two names, both signatures are required to transfer the plate/registration.
If you're changing the registration to the estate of a deceased person, you must bring the deceased person's Will.
How do I transfer my vehicle registration?
To transfer a vehicle registration, visit our registry in person where one of our agents can assist you. If for any reason, you're not able to do so, you can authorize someone to transfer your plate. Download the Authorization for Vehicle Services form, which the person you authorize must bring along with a valid Photo ID.
We also recommend downloading and printing the Bill of Sale provided by Service Alberta. This form contains all of the required information to legally register ownership of a vehicle in Alberta and will ensure a smooth vehicle registration transfer. If you don't have a printer at home, we have copies of both forms available at our registered office.
Note: We only accept original Bills of Sales. Any mistakes must be crossed out and the corrections must be initialled by the buyer and seller.
Can I transfer my vehicle registration online?
While online vehicle registration is available for renewal, you must visit a registry in person and bring the required documents to transfer a plate.