In Alberta, you need a marriage license for your marriage to be valid. It shows that both you and your partner have met the legal requirements to be married. Once you've obtained a marriage license from your local registry, you can move forward in hiring a certified officiant to perform the ceremony.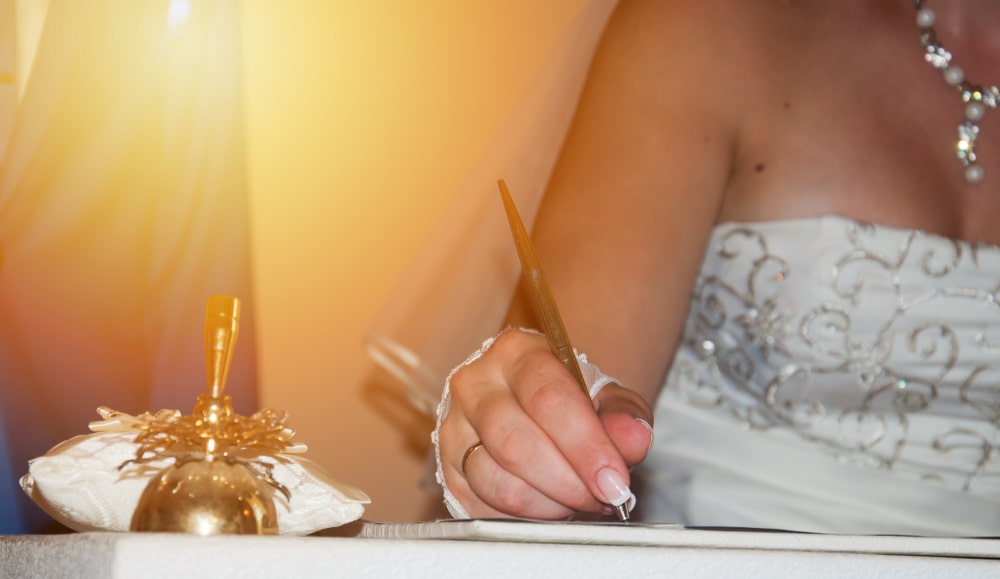 What to expect when applying for a marriage license
Alberta marriage licences are available at your local registry and is a 2-part document (Registration of Marriage and Marriage License). The full legal document must be given to your marriage officiant. 
What documents do you need to apply for a marriage license?
Both partners must be physically present when applying for a marriage license and must be able to provide a valid government-issued ID.
If you've had a previous divorce, you must provide a Certificate of Divorce or Decree Absolute. If you've had a previous marriage annulment, you must provide a copy of the court-ordered annulment. 
What information do you need for the marriage license application form? 
The marriage license application form will ask specific questions that include:
Date and place of birth for both partners

Religious denomination 

Mother's legal name including maiden name

Mother's place of birth 

Father's legal name 

Father's place of birth 
Who is eligible to apply for a marriage license?
To apply for a marriage license, you must meet the following conditions as outlined by the Government of Alberta:
Must be 18 years of age or older

Must not be currently married

Must not be related to each other by whole blood, half-blood, or adoption

Must not be under the influence of drugs or alcohol at the time of application
Important additional information regarding marriage licenses
Once you've successfully applied for a marriage license, it is valid for 3 months from the date that it is issued. Alberta marriage licenses are valid only in Alberta and the marriage ceremony must take place in Alberta. There are no residency or citizenship requirements, and there is no time period required between the date a couple arrives in Alberta and the date that a marriage license is issued.
If you have other special conditions, contact your local Alberta registry agent to make sure that you have the information and documents that you need.