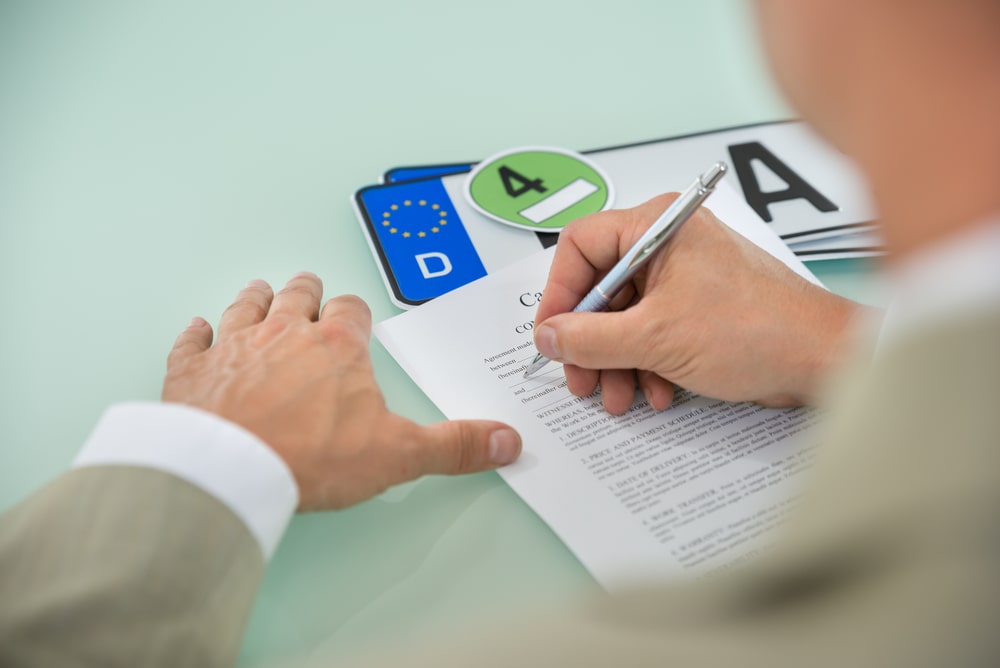 "License and registration, please." 
The last thing you want is to hear this sentence from a police officer while driving an unregistered vehicle, an offence that can cost you a minimum fine of $230. Registering your car is required by law in Alberta. We break down what you need to know about vehicle registry in Edmonton to make the process smooth and easy to understand. 
What is vehicle registration?
Car registration includes paying a fee to the province you live in and allows the province to keep track of the vehicles driven by its residents. The registration is meant to connect you and your vehicle as proof that you legally own that vehicle. 
When you register your vehicle, you'll receive proof of registration; usually a card, a license plate, and registration stickers.
When do you need to register a car?
You'll need to visit a vehicle registry in South Edmonton for any of the following reasons: 
You've just moved to Alberta from a different province or country. You have a grace period of 90 days from the day you moved to register your car with the province. 
You buy a new or used car. 
Your vehicle registration has expired. Registration expires on an assigned month based on your surname and will need to be renewed. The Alberta website provides a vehicle registration expiry chart

here

.
What you need to register your car in Edmonton
Any person 18 years or older can register a vehicle by themselves in Alberta. Drivers under 18 will need consent from their parent or guardian to register a car for the first time. There are exceptions to this rule, which a registry in South Edmonton can provide more details based on your specific situation. 
Here are some of the items you'll need to register a new or used vehicle:
Proof of ownership, such as a lease, bill of sale, probated will or letters of administration.

Proof of valid insurance for the vehicle. Insurance must be under the name of the person registering the vehicle.

Acceptable identification. 
If you're registering a vehicle purchased outside of Alberta but within Canada, you'll need to provide one of the following depending on the type and status of your vehicle:
Out-of-province inspection

A salvage inspection

Commercial inspection
If you're registering a vehicle purchased outside of Canada, you'll need to provide:
Proof of ownership for the vehicle

Your out of province, salvage or commercial inspection

For new vehicles: a New Vehicle Information Statement (NVIS or E-NVIS) or Certificate of Origin

A completed Transport Canada Vehicle Import form – Form 1, Vehicle Import form – RIV, Vehicle Import form – RIV exempt, or letter from an authorized pre-clearance importer
Final thoughts
If you've purchased a car within Alberta or you need to renew your vehicle registration, the process is straightforward and hassle-free. For more information or if you're in a unique situation, be sure to call or visit your local registry before taking an unregistered vehicle on the road.